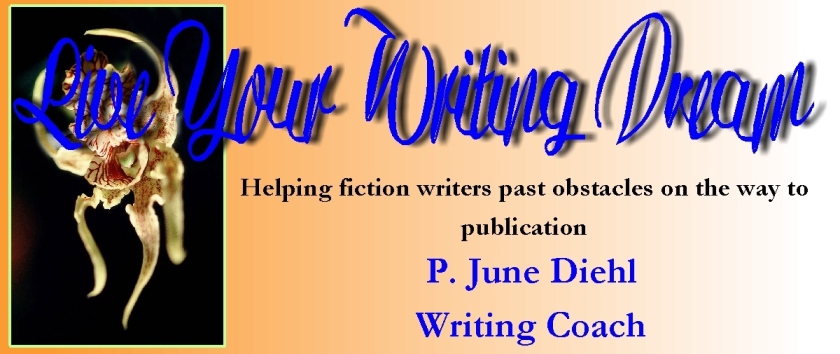 My Bio
NOTE: I am unable to access my Angelfire email. If you need to contact me please email me at: pjune@yahoo.com
First, I'm a writer. I've probably been where you are right now and experienced the things you're going through. Time is precious and so is my passion for everything that goes with writing.
I've published short stories, poetry, and articles online and in print. Currently, I'm working on several novels, a few short stories, and more nonfiction.
I have writing goals that I track each year. I have successes and misses. I revise my goals when deadlines fall behind me. I'm serious about writing.
Along with my love of writing is my passion for working and helping other writers. That's one reason I got back into coaching. It's why I do writing classes and workshops. I experience JOY when I know that I've helped another writer succeed.
LATEST NEWS!
Come with me on my journey to follow my writing dream.
THE DREAM: To work from home
WHERE: Live Your Writing Dream Blog
Other Information:
I am the past Editorial Director and Senior Editor for Virtual Tales, and the former Senior SF Editor for ePress-Online.
Author of THE MAGIC & THE MUNDANE: A Guide for the Writer's Journey (buy the book here!), I teach/mentor writing classes online at Writer's Village University and for Savvy Authors as well as conduct workshops on various elements of fiction writing and getting published.
I'm working on the second edition of my book, THE MAGIC & THE MUNDANE, which I hope to have available the beginning of 2013.
I'm enrolled in UCLA's Certificate Writing Program, focusing on long and short fiction. As of May 2013, I have one more class to complete, which begins June 2013.
I've published poetry, short stories, and articles online and in print. I'm finalizing a novel and working on several other projects. I live in Virginia with two cats (Precious and Dumpster) and Einstein, a large mystery dog.
Coach Training
Coach Training Alliance: Certified Coach Program (International Coach Federation (ICF) Accredited)
Afflications
Association of Coaching & Consulting Professionals on the Web
Home
My Bio
My Blog
Current Newsletter
Subscribe
Newsletter Archives
eBooks
Articles
Coaching Workshops
Writing Workshops
Packages
What is Coaching?
Benefits of Coaching
Who Needs a Coach?
My Coaching Style
Contact Me
© 2009, 2010, 2013 by P. June Diehl